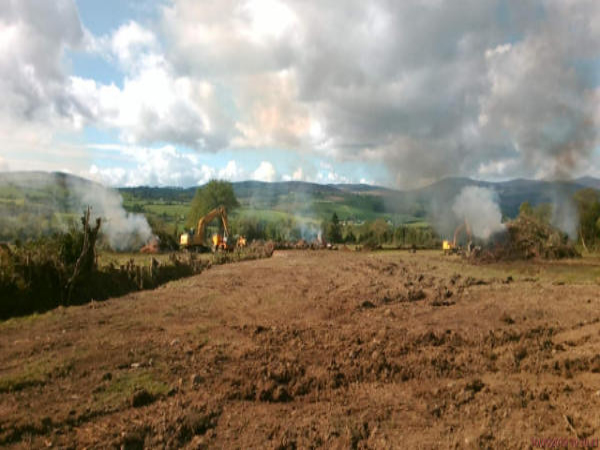 How to report hedgerow removal and out of season cutting?
During the nesting season (1 March to 31 Aug) the first port of call is the National Parks and Wildlife Service (NPWS) where hopefully there will be a Ranger in post in your area to whom you can report out of season hedge cutting and/or removal in confidence to:. natureconservation@npws.gov.ie and visit website: https://www.npws.ie
The Wildlife Act 1976 Section 40 is the relevant legislation.
Technically you can also report such activity to the local Garda station but the response will be dependent upon the interest/busyness etc of Garda personnel on duty.
Out of nesting season hedgerow removal as well as during the nesting season comes under the Department of Agriculture in Johnstown Castle in Wexford where the Environmental Impact Assessment regulations (EIA Agriculture regs) are operated.
These regulations govern the amount of hedgerow that can be legally removed without a prior environmental screening being carried out.
You can contact them in confidence at: EIAscreening@agriculture.gov.ie
Uselful Links
https://www.npws.ie/contact-us
THE NATIONAL PARKS AND WILDLIFE SERVICE IS THE GOVERNMENT BODY TASKED WITH PROTECTING HEDGEROWS AND IS RESPONSIBLE FOR IMPLEMENTING THE WILDLIFE ACT 1976 INSOFAR AS IT RELATES TO HEDGEROW HABITATS. THE SERVICE IS CURRENTLY UNDERGOING AN EXTERNAL REVIEW AND HEDGEROWS IRELAND ALONG WITH OTHER SIMILAR GROUPS ARE HOPEFUL THAT THIS WILL LEAD TO THE SERVICE BECOMING MORE REACTIVE AND EFFICIENT IN ADDRESSING THE MANY COMPLAINTS BY MEMBERS OF THE PUBLIC SENT TO THE NPWS ABOUT ILLEGAL HEDGECUTTING AND REMOVAL. IN THE MEANTIME, IT IS IMPORTANT THAT REPORTS OF SUCH ACTIVITY CONTINUE TO BE SENT TO THE SERVICE IN THE HOPE OF APPROPRIATE ACTION BEING TAKEN.