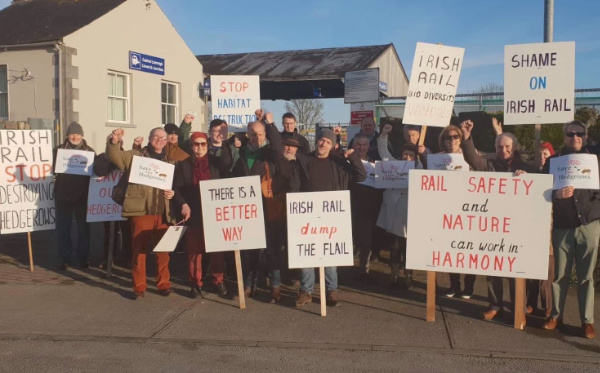 Our Campaigns
We initially campaigned against the unnecessary removal by Irish Rail contractors of 6 kilometres of native hedgerow along the Limerick Junction to Waterford rail line. This involved two public demonstrations in 2019 and 2020 at Cahir and Limerick Junction stations respectively. We ultimately had a meeting with Irish Rail management to discuss our concerns and a range of proposals with them. We remain dissatisfied with Irish Rail's practices concerning hedgerows.
We have had recent meetings in February 2021 with Ministers of State Malcolm Noonan and Pippa Hackett to discuss key issues of concern. We have been given access to relevant departmental officials in the National Parks and Wildlife Service and the Department of Agriculture arising from these meetings and have begun a process of engagement with them with a view to influencing government policy around hedgerow protection and promotion.
In February 2021 we submitted proposals to the DAFM pilot Agri-environmental Results Based Scheme. We are in the process of finalising proposals to the DAFM concerning the application of the EU Habitats Directive to restructuring (hedgerow removal) applications to that department.
Uselful Links
HEDGELINK UK IS  A PARTNERSHIP ORGANISATION WITH A HUGE DATABASE OF INFORMATION ABOUT ALL ASPECTS OF HEDGEROWS.
http://www.woodlandsofireland.​com/
A SISTER ORGANISATION WITH STRONG OVERLAP IN ITS AIMS AND AMBITIONS FOR INCREASING BIODIVERSITY THROUGH NATIVE TREE AND HEDGEROW COVER.
A VERY ACTIVE AND INFLUENTIAL BODY, IRELAND'S LARGEST INDEPENDENT CONSERVATION ORGANISATION WITH A DEEP INTEREST IN HEDGEROW HABITATS AND A LOT OF USEFUL RESOURCE MATERIAL
DEDICATED TO GOOD QUALITY HEDGEROWS AND HEDGELAYING TECHNIQUES BUT WITH WIDER INTEREST IN PROMOTING AND PROTECTING HEDGEROWS GENERALLY
https://www.npws.ie/contact-us
THE NATIONAL PARKS AND WILDLIFE SERVICE IS THE GOVERNMENT BODY TASKED WITH PROTECTING HEDGEROWS AND IS RESPONSIBLE FOR IMPLEMENTING THE WILDLIFE ACT 1976 INSOFAR AS IT RELATES TO HEDGEROW HABITATS. THE SERVICE IS CURRENTLY UNDERGOING AN EXTERNAL REVIEW AND HEDGEROWS IRELAND ALONG WITH OTHER SIMILAR GROUPS ARE HOPEFUL THAT THIS WILL LEAD TO THE SERVICE BECOMING MORE REACTIVE AND EFFICIENT IN ADDRESSING THE MANY COMPLAINTS BY MEMBERS OF THE PUBLIC SENT TO THE NPWS ABOUT ILLEGAL HEDGECUTTING AND REMOVAL. IN THE MEANTIME, IT IS IMPORTANT THAT REPORTS OF SUCH ACTIVITY CONTINUE TO BE SENT TO THE SERVICE IN THE HOPE OF APPROPRIATE ACTION BEING TAKEN.